Rowing Equipment Patents (U.S.)
Bill Miller
We often think that major improvements in rowing equipment occurred fairly recently, but many, if not most improvements, were patented many, many decades ago with most well over 100 years old. A good example is the sliding rigger that was raced at the World Championships in the early 1980s and then banned at FISA championships. It was patented at the U.S. Patent Department in 1876 (#184,031 – William N. Blakeman Jr.).
We can get a great perspective on how our sport developed by reviewing these patents. Listed here are some of the U.S. Patents issued. I've tried to include inventions that have some relationship to racing and training. I've ignored patents that relate to non-competitive rowing such as most gunwale mounted oarlocks.
Ebay has a great service where you can search for patents. Go to Ebay Patent Search http://www.google.com/patents?hl=en and browse around.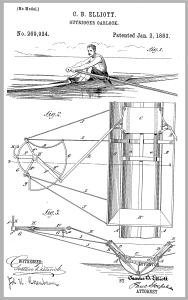 Rowing Related U.S. Patents
(Click on patent # to see PDF of original patent application)
| | | | |
| --- | --- | --- | --- |
| Patent # | Year | Owner | Title/Description |
| | | | |
| 39,188 | 1863 | W H Williard | Oar lock folding thole pins |
| 79,421 | 1868 | E&G A Waters | Improved paper boats construction (revised #3435) |
| 83,804 | 1868 | P Shelton Tyler | Improved in paper boats |
| 107,439 | 1870 | Walter Brown | Sliding seat |
| 116,417 | 1871 | William B Curtis | Rowing machine-flywheel & rachet |
| 137,394 | 1873 | Leonard D Tice | Improved exercise machines-flwheel |
| 138,388 | 1873 | Thomas Fearon | Row locks-trunnion tilting & pivoting |
| 148,434 | 1874 | Charles B Elliott | Improve steering device-footstretcher |
| 149,913 | 1874 | John Blakey | Sliding seats-oiled/glass rods |
| 156,392 | 1874 | Leonard D Tice | Exercise apparatus-piston valve |
| 161,629 | 1875 | George W Moore | Exercise machine-variable resistance |
| 165,072 | 1875 | Michael F Davis | Rowlock improvement-swivel |
| 169,277 | 1875 | William Lyman | Oar improvement-reverse gear |
| 173,220 | 1876 | Frederic A Gower | Row lock-stops |
| 183,265 | 1876 | George W Isaacs | Swinging out riggers |
| 184,031 | 1876 | William N Blakeman Jr | Sliding row locks |
| 185,032 | 1876 | George W Isaacs | Sliding row locks-sliding seat |
| 188,131 | 1877 | David Harrington | Sliding outriggers-arching oarlock |
| 190,793 | 1877 | William Spelman | Rowlock improvement-square swivel |
| 191,923 | 1877 | Mason Britton | Oar metal protection tips |
| 192,271 | 1877 | John McLaughlin | Exercising machine-elastic resistance home |
| 199,011 | 1878 | John A Baines | Rowlock improvement-swivel/pivoting/gate locking |
| 199,432 | 1878 | Goerge Goldie | Rowing machine-friction resistance |
| 203,973 | 1878 | Willaim H Wilcox | Exercise machine-mechanical resistance |
| 206,214 | 1878 | Samuel M Barnet | Exercise machine-elastic rocking seat Parlor Gym |
| 207,070 | 1878 | R Roberts/J L Knight | Outrigger rowlocks-locking gate |
| 207,465 | 1878 | John Weyman | Improved rowlocks |
| 208,954 | 1878 | William J O Bryon Jr | Exercising machine-elastic resistance |
| 209,377 | 1878 | Will J Britt | Exercising machine-elastic straps |
| 209,960 | 1878 | Michael F Davis | Sliding outrigger |
| 210,502 | 1878 | Nathan B Cook | Forward facing oar gear |
| 214,911 | 1879 | John P Herrick | Boat construction-cloth laminate |
| 218,736 | 1878 | John W Heenan | Exercise machine-outboad adjustable friction bearing |
| 222,024 | 1879 | James H Dennis | Outrigger sled |
| 224,415 | 1880 | Charles L French | Rowing 4-wheel wagon |
| 228,040 | 1880 | J T Coughlin/A G Sneider | Cork laminate boat |
| 228,277 | 1880 | Frank Saunders | Exercise machine-air pump resistance |
| 228,800 | 1880 | A Barker/E Anderson | Exercise machine-flywheel/air governor |
| 230,314 | 1880 | Richard McManus | Oar blade w/slots |
| 230,690 | 1880 | Eugene A Bennett | Rowing gear-sliding outrigger |
| 9,269 | 1880 | Michael F Davis | Improved swivel row lock (reissued) |
| 231,016 | 1880 | Michael F Davis | Improved oar/scull-offset handle/loom shape-stiffener |
| 231,017 | 1880 | Michael F Davis | Foot steering appartus/pivoting shoe |
| 11,825 | 1880 | Egerton A Bliss | Watch chain design |
| 239,872 | 1881 | Charles T Soniat | Seat improvement-wheels & keeper |
| 242,073 | 1881 | Charles A Terry | Exercise machine-variable resistance |
| 243,309 | 1881 | Frank Saunders | Rowing machine-center piston |
| 245,378 | 1881 | Herman Hirsch | Oar-indulating blade shape |
| 249,644 | 1881 | John R Lomas | Practice apparatus-measure power |
| 255,265 | 1882 | Thomas Fearon | Sliding seat-reduced friction wheels |
| 258,773 | 1882 | John M Laflin | Exercise machine-coil springs |
| 259,826 | 1882 | Michael F Davis | Celluloid molder boat-injection parts |
| 260,341 | 1882 | Richard D Williams | Swivel oar lock-one piece top bar |
| 263,025 | 1882 | Charles A Corwin | Forward rowing gear-one handle operating two oars |
| 269,924 | 1883 | Charles B Elliott | Outrigger oarlock-arcing sliding seat faciltated |
| 271,441 | 1883 | Thomas Fearon | Outrigger-fittings & oar lock |
| 276,294 | 1883 | F D Smith/W L Casaday | Forward facing rowing appartus |
| 282,589 | 1883 | John H Trowbridge | Chain drive exercise machine |
| 282,853 | 1883 | Michael F Davis | Rigger support/seat divisions/wind balance/veneer stringers |
| 282,854 | 1883 | Michael F Davis | Bearing rowlock-stop & matching roller bearing sleeve |
| 282,855 | 1883 | Michael F Davis | Anti-friction roller-baering tripod seat |
| 282,856 | 1883 | Michael F Davis | Girder oar/rubber grip |
| 288,219 | 1883 | Leonard W Elliott | Velocipede-drum clutch/3 wheel land rowing machine |
| 291,533 | 1884 | C P Pitman/H Allaire | Celluloid laminate boat |
| 294,029 | 1884 | John C Garrood | Roller bearing sliding seat |
| 298,392 | 1884 | John M Laflin | Friction resistance rowing appartus |
| 300,915 | 1884 | George B Stanton | Oar-attach metal blade |
| 304,142 | 1884 | William Spelman | Rowing trolley on tracks & pegs |
| 304,474 | 1884 | James J Turpel | Spring return sliding seat |
| 305,198 | 1884 | Daniel E Kempster | Rowing vehicle-3 wheel/sliding seat |
| 317,430 | 1885 | Ellis F Ward | Swivel rowlock with pinned gate |
| 323,292 | 1885 | George Briggs | Rowing apparatus-fixed boat in water pool |
| 330,841 | 1885 | Jacob L Kwarel | Boat facing oar & oar lock |
| 337,942 | 1886 | Bernard Farley | Exercising machine-pulley weights |
| 346,745 | 1886 | Chauncey M Hall | Bow facing oar-reverse gear |
| 348,619 | 1886 | Charles E Courtney | Velocipede-3 wheel land rower |
| 352,329 | 1886 | Edward J Kerns | Rowlock-double motion |
| 356,846 | 1887 | Frank F Martin | Oarsman's harness connecting body to oar handle |
| 358,034 | 1887 | George W Green | Sheet metal oar/scull blade |
| 359,130 | 1887 | Evington W Case | Balanced oar blade |
| 368,111 | 1887 | Robert Reach | Exercise maching-piston-cylinder resistance |
| 369,860 | 1887 | Damiel E Kempster | Velocipede-handle driven 3 wheel road vehicle |
| 377,986 | 1888 | Mitchell E Bosca | Adjustable outrigger |
| 381,187 | 1888 | William & Jacob Tracey | Sliding station, spring resistance rowing machine |
| 385,465 | 1888 | Robert Masay | Rowing apparatus-boat station w/circular pedal |
| 390,740 | 1888 | John H Abeel Jr | Anti-friction ball bearing slide runner |
| 397,386 | 1889 | Robert Reach | Exercise apparatus-oarlock resistance & tilting |
| 413,015 | 1889 | Thomas J Bigger | Rowing machine-oarlock friction |
| 421,080 | 1890 | Edward J Kerns | Pivoting footboard |
| 427,110 | 1890 | Narciso T Quevedo | Velocipede- 3 wheel road vehicle |
| 435,934 | 1890 | Edward J Kerns | Exercise machine-complex drum resistance |
| 441,765 | 1890 | Stephen H Kimball | Rowing machine-folding |
| 500,826 | 1893 | George H Thatcher | Oar propelled ice boat-mounted on skates |
| 502,467 | 1893 | William Roessler | Rowing apparatus-oarlock cluch |
| 521,536 | 1894 | Michael F Davis | Row boat-skin reinforcement |
| 540,579 | 1895 | Michael F Davis | Pivoting handle oar |
| 540,580 | 1895 | Michael F Davis | Adjustable rowlock |
| 540,581 | 1895 | Michael F Davis | Oar/oarlock stabilizer |
| 541,857 | 1895 | E C Hinton/W H Stansfield | Iceboat rowing machine |
| 550,642 | 1895 | Walter B Peet | Sliding seat distance indicator |
| 581,214 | 1897 | John V Lewellen | Ball-bearing oar lock |
| 588,220 | 1897 | Michael F Davis | Oar-hollow/grooved loom, light button, metallic blade tip |
| 599,811 | 1898 | Frank J Steinhauser | Sliding seat guideway-track guards |
| 609,956 | 1898 | Thomas H Brosnihan | Seat actuated tilting tracks |
| 641,596 | 1900 | Edward J Kerns | Rowing machine-chain driven drum/belt resistance |
| 642,544 | 1900 | Louis S Burbank | 4 whell bicycle road vehicle |
| 683,540 | 1901 | William C Wilson | Oar lock-upper & lower control pivote, locking gate |
| 684,868 | 1901 | James A Robinson | Tubular metal oar |
| 700,827 | 1902 | Alden H Rollins | Swivel rowlock-top brace |
| 710,147 | 1902 | William B Goodwin | Rowing apparatus-saddle seat/pivot footboard/knee rest |
| 731,998 | 1903 | Lawrence W Grayson | Rowing machine-clutch friction flywheel |
| 738,053 | 1903 | Horace B Murdock | Sheet metal truss oar/scull blade |
| 749,153 | 1904 | Sanford I Batchelor | Bicycle with rowing attachment-2 wheel road vehicle |
| 805,033 | 1905 | W H Smith/W B Goodwin | Hollow oar metalic mesh/paper pulp |
| 868,378 | 1907 | Ellis F Ward | Improved oar lock |
| 885,871 | 1908 | Daniel Scanlan | Multi station exercising apparatus |
| 927,833 | 1909 | John H Cunningham | Oarsman's apparatus rowing tank mechanism |
| 1,003,069 | 1911 | Timothy H Shea | Hollow oar |
| 1,015,071 | 1912 | Robert Reach | Hydraulic piston rowing apparatus |
| 1,058,855 | 1913 | Adrian Gerardin/Chas Sauve | Coil spring sliding seat & footboard |
| 1,061,363 | 1913 | Lewis J Evans | Airship balloon oar-like propelled |
| 1,097,330 | 1914 | George J Karle | Adjustable friction oar lock |
| 1,111,269 | 1914 | Philip S Medart | Rowing apparatus-adjustable friction |
| 1,223,512 | 1917 | John Neville | Double threaded adjustable rigger frame |
| 1,245,098 | 1917 | Joel E Goldthwait | Tilting sliding rowboat seat |
| 1,389,988 | 1921 | William A Rose | Twp piece rigid aluminum oar collar |
| 1,401,038 | 1921 | Thomas Britt | Rachet type rowing machine |
| 1,451,749 | 1923 | Alton J Wiltrout | Bow facing oar gear |
| 1,488,836 | 1924 | Alden H Rollins | Adjustable rigger support-bolt |
| 1,548,483 | 1925 | George Y Pocock | Oar construction |
| 1,594,063 | 1926 | Guy E Long | Oarlock with roller bearing swivel base |
| 1,621.423 | 1927 | Guy E Long | Pivoting foot rest |
| 1,625,447 | 1927 | Theodore S Bernice | Home style exercison (Venus?) |
| 1,656,534 | 1928 | Alden H Rollins | Adjustable back stand rowlock |
| 1,679,631 | 1928 | Hal E Seagraves | Recording apparatus-measures oar angle |
| 1,742,260 | 1930 | Thomas R Keenan | Tubular hollow i-bear oar |
| 1,974,445 | 1934 | Edgar A Callseon | Exercis machine-belt/drum resistance |
| 1,979,783 | 1934 | T William & H Casler | Elastic home rowing machine |
| 2,067,218 | 1937 | Charles S Walsh | Rowing shell attachment-spash guard |
| 2,154,018 | 1937 | Fred Wagele | Feathering device |
| 2,259,678 | 1941 | Walter G Bolton | Tubular oar |
| 2,586,024 | 1952 | Frank T Glascow | Dockside rowing box |
| 2,725,231 | 1955 | Walter M Hoover | Rowing machine-rotary drum, hydraulic resistance |
| | | | |